About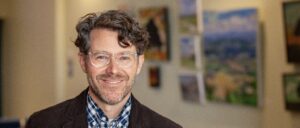 Winfield Bevins is an internationally recognized author, teacher, and artist. Over the past decade, he has helped start churches and several non-profit organizations, including a food distribution center that feeds nearly 10,000 underprivileged people a year and a non-profit art guild, gallery and studio. He co-founded Healthy Rhythms Coaching and has helped train leaders from around the world through his work as director of church planting at Asbury Theological Seminary. He has a doctorate from Southeastern Seminary and is finishing a PhD program at Aberdeen University. Winfield is also director of research for Next Research with Leadership Network.
He is the author of numerous books, including Liturgical Mission (InterVarsity Press, 2022), Ever Ancient Ever New (Zondervan, 2019), Marks of a Movement (zondervan, 2019), which has been translated into Spanish and Korean. Winfield's work has been featured in various outlets such as Christianity Today, Publishers Weekly, Outreach Magazine, and Religious News Service.
He and his wife Kay have three beautiful girls Elizabeth, Anna Belle, and Caroline and live in the Bluegrass state of Kentucky. When he is not teaching or writing, you'll likely find him hiking, kayaking or painting.